Discussion Starter
·
#1
·
For a while I've been toying with building an extractor. I was originally hoping to build a radial-style extractor with the capability to extract up to 9 frames, by use of bicycle rims and a food-grade plastic drum. Meanwhile, other opportunites came up and I altered my plans.
While looking for alternatives to bicycle rims, our own Tecumseh (thank you sir :thumbsup
offered to barter a 2-frame tangential basket (reel) with crank/gear assembly. When I got the reel, I went on the hunt for a stainless canister. Some guys at work pointed me toward a local sandblasting business that also buys scrap stainless. For the price of a coupla jars of honey and maple syrup, I went home with a stainless canister from a gently used shop vac. After replacing the bearing on the gear assembly and drilling a few holes in the canister, this is what I came up with.:grin: Can't wait til later this sumer!!!
Top view
Top inside view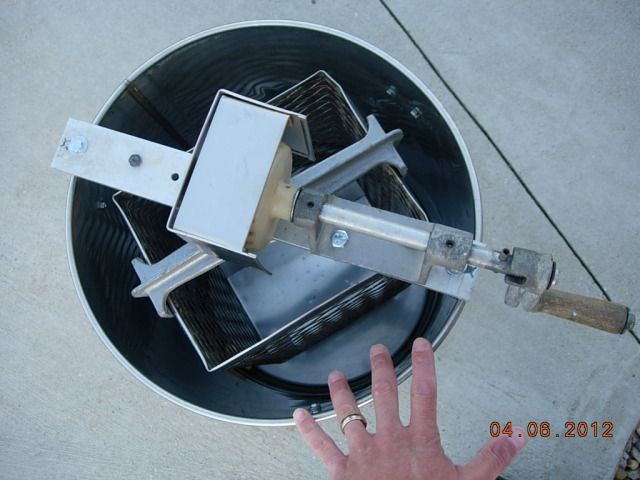 And if that wasn't enough, my Dad called me the next day to tell me that his neighbor had a small swarm in the hedge next to their driveway. I picked them up Thursday morning right after daylight and put them in a 10 frame deep box with a frame of brood with nurse bees and a frame of pollen. I guess that kinda makes up for the dead bees at the cutout I went to do last Monday. Ended up being about 1 1/2 lbs. of bees and a small queen.
Not bragging, just wanted to share my good news and joy.:razz: