Discussion Starter
·
#1
·
Started work on my model 22 standard yesterday (march 9th.). Kare and I bought it in Canada in 1989. Used my dads truck to pull the trailer when we went to pick it up. the bridge fare was for a 3/4 ton truck even though it was a ton job. Dad had owned the truck for 3 years and never relized it had 2500 on the drivers side and 3500 on the passanger side. He left it like that even though we never took it across that bridge again.
The top tractor is Kares 1988 Mothers day presant. The bottom one is the 22 standard. It is complete except for a couple missing bolts, a battery tray not ate thru and a bit of oil consumption above normal.
Kares 20 on the other hand reaqlly needs a lot of tender care. All the side panals are missing, the engine is the wrong size for the model. Every time I look at it I think some one bought a frame and added parts to make a workable tractor. I've gathered about every thing for it though, although the correct engine is sezied but is soaking in diesel fuel so should free up when ready to tackle it.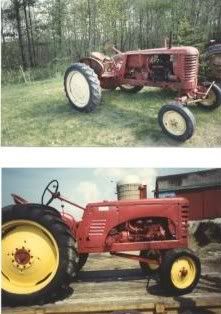 Yes Kare asked for that tractor as a gift. In fact she has 4 of her own.
:mrgreen: Al