Discussion Starter
·
#1
·
Ok, a little catching up to do here...
Some of you have alluded to the fact that I might not be becoming addicted to bees....that I *am* addicted to bees. Not so, I have only a minimal interest in them...if I was truly addicted I would not have temporarily stopped feeding them downtown beside the sidewalk at the store when I thought I was going to incite a robbing frenzy. I can't help it that the top of the big green garbage can was a nice feeding platform...those "sanitation engineers" sure can be kind of cranky at times!!!!! I also don't watch *many* of bee videos at work...that's what jump drives are for so I can be comfortable at home watching them.
Anyhow, I'm no addict!!!........
am I?
As for the wife...yelp, she's coming around. She already has a honey addiction and she's getting more interested in the bees, too. I think we'll be a good team down the road.
As for now, here is where I'm kinda at....
Currently I have an 8-frame super setup with a small colony of bees in it. A friend of my mentor sold me the 8 frames for a dollar a piece. He said he didn't want to have to feed them over the winter (I kinda think it also really wanted me to have bees to work with). Earlier I purchased two semi-established colonies from my mentor who is over-wintering them for me....he's guarantying me two live colonies in the spring regardless if one of the chosen colonies dies out. Anyhow, both of these gentlemen thought regardless of whether the nuc survives the winter that it would be good education for me to prepare for the spring. I've been putting the syrup to them and they're looking pretty dog-gone good (in my newbee eyes). They've put up a lot of the syrup, lots of it capped, and have been bringing in a good bit of pollen....bright yellow until this recent freeze that came by, now they're bringing in a pollen that is light-gray with a hit of yellow. I had a white camellia blooming but that's over with now and a big red one has started....but, I think the bulk of the pollen is coming from elsewhere. They've got some nice patches of brood, too.
I've seen a few hive beetles...probably 5-6, a couple got away from me but those that didn't were faulty and failed the pressure test. I've got a white plastic clip-on (AJ?) oil traps hanging between a couple of frames but haven't caught anything as of now.
I am going with all 8-frame medium supers. I have 18 built as of now, which I feel is sufficient for 3 colonies (figuring 6 supers per colony). Currently I have enough SBB and telescoping tops to handle up to 4 colonies. I would like to increase my capabilities to handle 6 colonies being as I hope to catch a couple of swarms this spring/summer. I'm thinking that I need a minimum of 6 more supers to cover my current top/bottom inventory and up to 12 more (along with 2 more tops and bottoms) if I want the 6 colony capability.
So far most all of my woodenware has come from Rossman. I've been impressed with their quality so far along with there customer service. I dodged the shipping by picking the woodenware up at state beekeeper's meeting (enjoyed it *immensely*!!!). There's another meeting in Auburn coming up in February in which I could order the balance of my equipment. The outlay of $$$ has not been cheap (really, huh? :roll: ) but this is my grubstake that's getting me started. My plans after getting my bee yard established is to start making my own equipment...at least the tops and bottoms, I've recently found a local source of cypress where I might be able to snag cut-offs. My goal is to build my bee yard up large enough so that the bees will earn their keep.
I can only imagine how much that first pint of honey is going to cost me!!!! :-o
Bee library...I'm amassing a sizable bee library. No...I'm *not* addicted!!!
I'm finding that most beekeepers are some very good folks and that they *love* to talk and share things!!! My mentor(s) are 78 and 80 and I feel mighty blessed to have them...good folks....now there's two dudes that have an addiction problem!!!! Me...nah.
Anyhow, I've got great plans...just hope this newbie can handle them! :beg:
I'm sure there's more I can say, but I'll stop for now. Thanks again for the welcome!!!
Ed
One of the frames from my small colony...
One of the innocent little downtown ladies...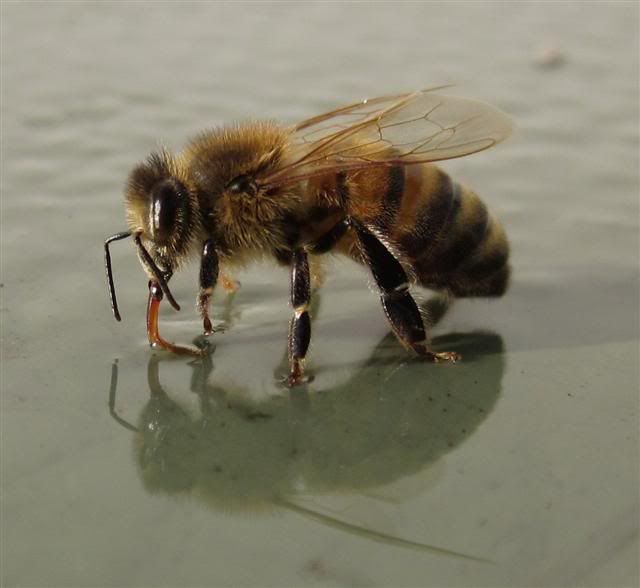 Family picnic...