Discussion Starter
·
#1
·
So, as I was standing on my "soapbox†lecturing anyone within earshot about "messy Texans†dumping tires in ponds, I was told that tires act as a nursery for young fish and the tires were probably put there deliberately. Could this be?
I've seen young parrot fish and tangs and others in grassy areas of saltwater, but tires in a pond?
Anyway, with the ever decreasing pond levels, I've removed four. The one below is my fourth.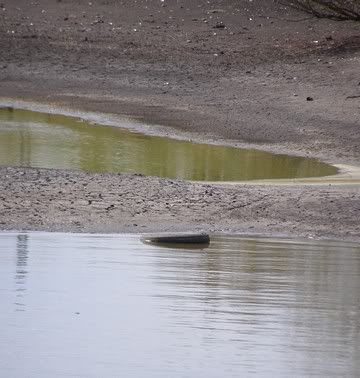 This one was easier because of the land separating the 2 areas of the pond. I was able to walk right out and hook the tire and drag it out.
Did I ever tell you about our soil? Where I live is called "Blackland Prairieâ€. The soil is black and acts like a sponge. When it gets dry it becomes cracked, with some cracks 6†wide. It's difficult to tell what is dry and what is spongy.
Maybe that's why I was able to roll the tire to the grassy area, and when I went to walk back across the "land bridge†my left foot sank about a foot into the mud. I planted my right foot and realized it was sinking to. So, I pressed off my left foot and got my right freed. Now my left leg was about 2 feet into the mud.
Did I tell you about how I twisted my right knee a couple of weeks ago? Oh well, another story. Anyway, I flanged (Southern past tense of "flingâ€) my injured right leg over my body to the left and began to use it as leverage to get my left leg out. IT WORKED! Well, my leg got out, but my boot was left behind.
I realized that, since my right leg was about 2 feet in the mud, I was in just a little bit better shape now than I was. I decided to try and crawl with my left leg. It worked, but my right boot
and
sock were left behind.
Now I was able to walk on very hard, sharp crusts of blackland prairie in my bare feet. I struggled to the grassy area and got up to a mowed path of Bermuda Grass with feet bleeding only slightly.
Do you know about Bermuda Grass? It's a very fine bladed grass that is like a soft carpet under your feet…Unless you've been in a drought. We've tried to keep it quiet, but Texas hasn't had much rain this year. Anyway, in a drought, that lovely Bermuda grass becomes Bermuda needles.
My wife saw my odd way of walking/jumping and, after some conversation, brought me a pair of deck shoes. I limped to the house and showered. The last great indignity? Spending, what seemed like an eternity, cleaning mud from the shower because, after 40 years of marriage, I know no female worth those 6 letters would let a dirty shower go unnoticed.
Now that I think about it, maybe tires are good nurseries for young fish.
Walt