Discussion Starter
·
#1
·
Please do not respond to any posts until I yell "LIAR LIAR PANTS ON FIRE!!!"....er, uh, that should be "LIAR LIAR JEEPS ON FIRE!!!!"...my bad.
Seriously, not posting until I'm through posting this info will help keep the tutorial(?) an uninterrupted "thought".
Ya'll bear with me on this...there will probably be some mistakes someone needs to point out to me. Questions are welcomed. Sneaking bee smokers into my jeep is unacceptable!!!
This is a short take (hopefully) on how to upload pictures to Photobucket and use them in a message here on
www.beekeepingforums.com
Here goes...
First thing is you need to have an image to upload and know where it's located at on your computer. Our target is beeyard.jpg...
==========
Now, ya gotta go to photobucket.com now. Set up an account there if you don't already have one.
When you first log in to PB you are presented with the primary folder to store your pictures in.
You can also create subfolders just like you can do on your computer. These are normally listed on the lower righthand side of my screen. (BTW, I'm working on an old crt monitor at work that kinda cramps the screens).
You can store your images in the primary folder or you can create a new folder. If you don't have any images uploaded yet you'll see this screen. Click on the green bar.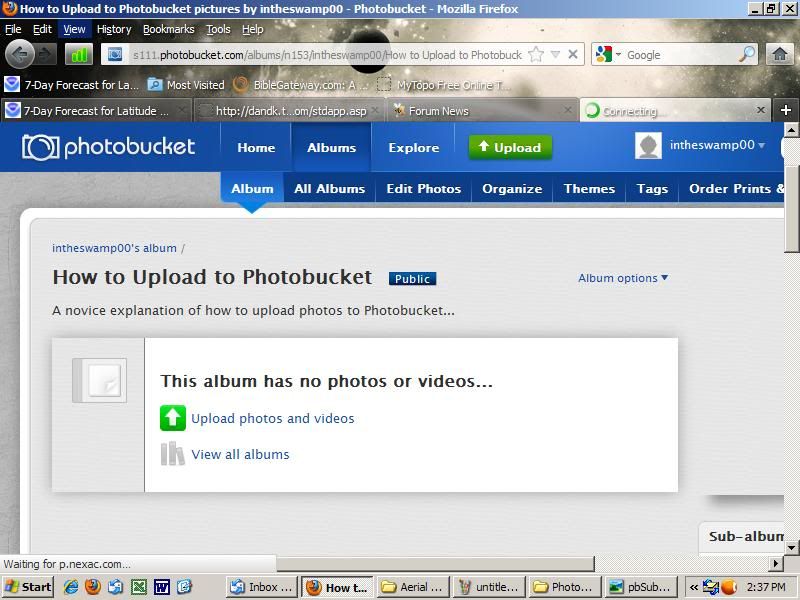 A window with another green bar will come up prompting you to click on it to. This will open up a directory/folder on your computer. This is where you need to know where your image is located at. A warning here...if you for some reason go to another window while you have the upload selection window showing your images open you might play the dickens finding it again without starting back over...just thought I'd mention that...it happens to me :roll: ...
Navigate to the image...
Clicking on the selected image will begin the uploading process...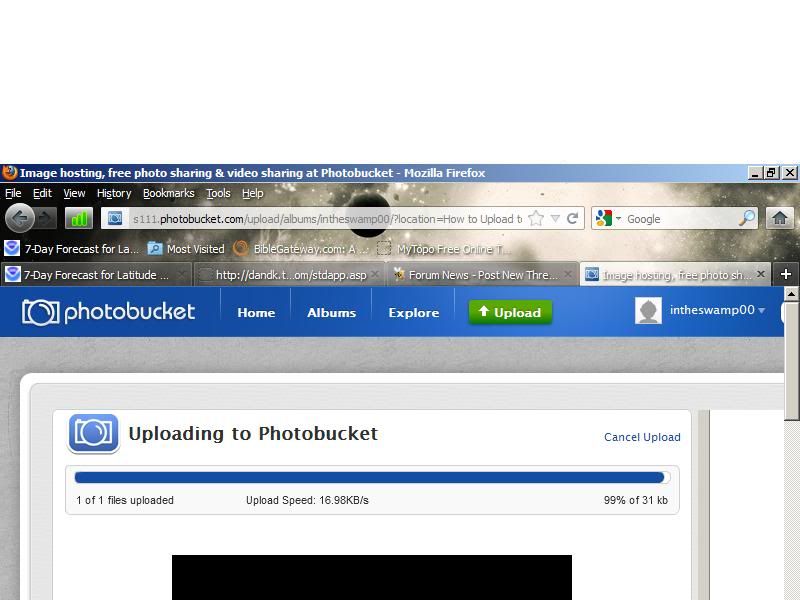 My computer seems to hang about now but if I click the "Save and Continue..." button it correctly moves me to this screen...